Brand Strategy / Earned Media Campaign
Honey is a smart shopping assistant whose main feature automatically applies often hard to find coupon codes at online checkout. Although Honey has over 12 million worldwide users, brand engagement is low. To help Honey become a beloved brand rather than a passive utility we created an earned media campaign that showcased how Honey can bring equal access to the opportunity to save.
Survey writing
Target Persona
Focus Group Facilitation
Brand Positioning
Campaign Strategy
Make Honey a beloved brand through an earned media campaign.
1. Although users feel Honey provides a helpful utility, many do not engage with the brand in a meaningful way.
While honey is simple and easy to use the product is almost too simple. The browser extension works so well that people can easily forget it is there, even if they use it regularly.
2. Honey's mission of "fairness" is subjective and overbroad.
Honey asked us to communicate their vision of fairness, while a novel vision, we came to find that fairness is hard to define, and often is tied to jealousy.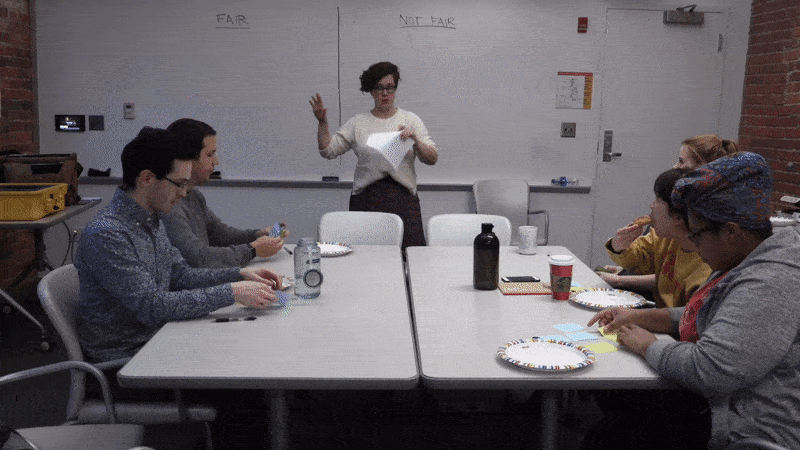 Honey was founded with the goal of making the world more fair for shoppers, so we set out to define what that really meant. Through a survey, a focus group, one-on-one interviews, and secondary research, we learned what people think is — and isn't — fair.
"Time is fair because no one can control that."— Sally
"Coin flips are fair." — Art
"Google search is fair because everyone has access to the same information." — Jim
"Genetics are unfair because you can't pick your family." – Art
"It's not fair that people have more money than I do." – Gloryah
"Some people are given unfair opportunities in life, like Kylie Jenner." — Anna
Through our research, we learned that fairness is extremely subjective and often tied to jealousy. Everyone has a different idea of fairness, what is fair for one person, can be unfair for another. By its nature, fairness is binary and often raises more questions than it answers. After careful consideration, we decided that Honey should not focus their messaging and vision on the idea of fairness.
Rather than championing fairness, we pivoted towards equal opportunity. Honey does just that by giving its users access to all of the same discounts and pricing information. They level the playing field between retailers and consumers by saving consumers both time and money.
The Different Types of Online Shoppers
To better understand our ideal customer*, we mapped out three distinct user personas.
• Values his time more than his money.
• Shops online for convenience.
• Willing to pay a premium to get what he wants, when he wants it.
• If there's an option to pay more for shipping to get his stuff faster, he'll go for it every time.
• In some cases, we could say he has more money than sense.
• Values her time and money equally. She wants to shop smarter, not harder.
• Saving some money is great, but she has no interest in turning it into a time-guzzling hobby.
• A promo code for free shipping is a jackpot and justifies her purchase.
• She knows she's going to shop and feels she might as well get a discount when she does, as long as it's not a lot of work.

• Values her money more than her time.
• She'll spend hours digging for coupons to get the best value.
• Finding deals is a hobby for her.
• She'll opt for slower shipping or a lesser product to pinch a few more pennies when she shops.
• She is loyal only to the deal and will use any tricks, services, or tools that save her the most money at that moment. 
When people think about fairness it's often confused with jealousy.
What they really want is equal opportunity.
Honey provides equal opportunity to save time and money.
The internet is full of money.
Honey is your resource for discovering it.
We suggested a campaign that is all about finding money in unique and unexpected places. Like a page full of dollar bills hidden inside a newspaper that can only be found at a Honey newsstand.  
To push the newspaper idea further, we suggested a poster wall covered in dollar bills that the public could peel away to reveal the Honey message.
In the subway we would place stickers on the Subway that when peeled away would revel money. After the money was peeled off, the Honey message would still remain, just like the dollar wall.
To make Honey more accessible, we suggested setting up Honey vending machines that will sell products at a greatly reduced price. However, you could only access them if you downloaded the Honey app and scanned your personal barcode. Additionally, all of our executions were made for social content creation to promote #UseHoneyGetMoney.
Strategy 
Strategist – Joe Castagna
Strategist – Katie Kovach
Creative Brand Manager – Jacob Steckman
Creative Brand Manager – Ashley Devereux
Creative
Joe Jones – Art Director
Josh Perry – Copywriter